"We believe that happy children are successful children"
Social development involves learning the values, knowledge and skills that enable children to relate to those around them.
At Thrive Early learning centres we aim to equip children with
A sense of belonging
Self confidence and
Help children form correct thinking and communication skills for problem solving and friendships through spontaneous /structured play and teacher directed activities that will promote better relationships.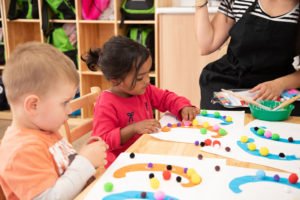 Building milestones
Thrive carers assist all age groups in developing their social milestones by promoting good social practise, respect and cognitive empathy thinking. In order to do this children must have a sense of "belonging" in their community and self confidence to be able to build social relationships with those around them.
Our program is supported by the Early Learning Years framework NSW and is delivered through a combination of structured and play based learning opportunities that build on children's strengths and experiences.
Building communities
In our "socially thriving" curriculum we also want to harbour in children a respect and tolerance for diversity as our community continues to grow and change. We do this by making sure celebrations from around the world are acknowledged and children understand the world around them through books and experiences shared within the community.
Building Partnerships
Respect for diversity and partnerships with families build better, stronger centres. These are extremely important values that form a basis that the Thrive team continues to build on. Educators at Thrive recognise that families are childrens first and most influential teachers, Children need to feel that parents are involved in their learning and growing by participating in the various centre based activities provided.